If you were looking for the best Digital Nomad Quotes you have come to the right place.
Ever thought about living the life of a remote worker, and you were looking for that motivational and inspirational push?
Thankfully, the Nomadic Lifestyle is an inexhaustible source of inspiration and fascination. Nomad life offers many things, but mainly freedom. Freedom of choice to choose what kind of life you want to live.
It's not easy to change everything and taking a leap of faith and you are fully aware of that. Or you have already changed your 9 – 5 life(congratulations!!!) and need that final affirmation about the next thing you do?
If so, this massive list of 201 carefully selected and crème de la crème Nomad quotes and words will give you the motivation to start or further progress your Nomad journey.
The Journey Begins
1. "If you want to achieve greatness stop asking for permission." –Anonymous
2. "If you are not willing to risk the usual you will have to settle for the ordinary." –Jim Rohn
3. "All our dreams can come true if we have the courage to pursue them." —Walt Disney
4. "Just when the caterpillar thought the world was ending, he turned into a butterfly." –Proverb
5. "Try not to become a person of success, but rather try to become a person of value." –Albert Einstein
6. "A successful man is one who can lay a firm foundation with the bricks others have thrown at him." –David Brinkley
7. "What seems to us as bitter trials are often blessings in disguise." –Oscar Wilde
8. "No masterpiece was ever created by a lazy artist." –Anonymous
9. "Life is not about finding yourself. Life is about creating yourself." –Lolly Daskal
10. "Innovation distinguishes between a leader and a follower." –Steve Jobs
11. "Success is the sum of small efforts, repeated day-in and day-out." –Robert Collier
12. "Only put off until tomorrow what you are willing to die having left undone." –Pablo Picasso
13. "I find that when you have a real interest in life and a curious life, that sleep is not the most important thing." –Martha Stewart
14. "As we look ahead into the next century, leaders will be those who empower others." –Bill Gates
15. "Whenever you find yourself on the side of the majority, it is time to pause and reflect." –Mark Twain
---
---
16. "If you genuinely want something, don't wait for it–teach yourself to be impatient." –Gurbaksh Chahal
17. "The number one reason people fail in life is because they listen to their friends, family, and neighbors." –Napoleon Hill
18. "You must expect great things of yourself before you can do them." –Michael Jordan
19. "You've got to get up every morning with determination if you're going to go to bed with satisfaction." –George Lorimer
20. "Most of the important things in the world have been accomplished by people who have kept on trying when there seemed to be no help at all." –Dale Carnegie
21. "Little minds are tamed and subdued by misfortune; but great minds rise above it." –Washington Irving
22. "A man can be as great as he wants to be. If you believe in yourself and have the courage, the determination, the dedication, the competitive drive and if you are willing to sacrifice the little things in life and pay the price for the things that are worthwhile, it can be done." –Vince Lombardi
23. "I don't know where I'm going, but I'm on my way." – Carl Sandburg
24. "It is not the strongest of the species that survives, nor the most intelligent that survives. It is the one that is the most adaptable to change." – Charles Darwin
25. "Action will remove the doubt that theory cannot solve." – Petryl Hsieh
26. "I've missed more than 9,000 shots in my career. I've lost almost 300 games. 26 times I've been trusted to take the game's winning shot and missed. I've failed over and over and over again in my life and that's why I succeed." – Michael Jordan
27. "You shouldn't focus on why you can't do something, which is what most people do. You should focus on why perhaps you can, and be one of the exceptions." – Steve Case
28. "You miss 100 percent of the shots you don't take." – Wayne Gretzky
29. "Do not go where the path may lead, go instead where there is no path and leave a trail." – Ralph Waldo Emerson
30. "Fail often so you can succeed sooner." – Tom Kelley
31. "The greater danger for most of us lies not in setting our aim too high and falling short, but in setting our aim too low and achieving our mark." – Michelangelo
32. "Many of life's failures are people who did not realize how close they were to success when they gave up." – Thomas Edison
33. "Formal education will make you a living; self-education will make you a fortune." – Jim Rohn
34. "Because in the end, you won't remember the time you spent working in the office or mowing your lawn. Climb that goddamn mountain." — Jack Kerouac
35. "To Travel is to Live." — Hans Christian Andersen
36. "Blessed are the curious for they shall have adventures." — Lovelle Drachman
37. "Once a year, go someplace you've never been before." — Dalai Lama
38. "We live in a wonderful world that is full of beauty, charm, and adventure. There is no end to the adventures we can have if only we seek them with our eyes open." — Jawaharial Nehru
39. "Traveling is a brutality. It forces you to trust strangers and to lose sight of all that familiar comfort of home and friends. You are constantly off balance. Nothing is yours except the essential things: air, sleep, dreams, sea, the sky — all things tending towards the eternal or what we imagine of it." — Cesare Pavese
40. "The world makes way for the man who knows where he is going." — Ralph Waldo Emerson
41. "Travel and change of place impart new vigor to the mind." — Seneca
42. "Not all those who wander are lost." — J.R.R. Tolkien
43. "Like all great travelers, I have seen more than I remember, and remember more than I have seen." — Benjamin Disraeli
44. "Travel is never a matter of money but of courage." — Paolo Coelho
45. "At its best, travel should challenge our preconceptions and most cherished views, cause us to rethink our assumptions, shake us a bit, make us broader minded and more understanding." — Arthur Frommer
46. "Take only memories, leave only footprints." — Chief Seattle
47. "I travel not to cross countries off a list, but to ignite passionate affairs with destinations." — Nyssa P. Chopra
48. "I haven't been everywhere, but it's on my list." – Susan Sontag
49. "I would rather own little and see the world than own the world and see little of it." – Alexander Sattler
50. "The road you travel has twists and turns. The life of an entrepreneur has ups and downs. Hang on and enjoy the ride." – Libby Tucker
51. "The journey of a thousand miles begins with a single step." – Lao Tzu
52. "If in doubt, just walk until your day becomes interesting." – Rolf Potts
53. "My religion is to live and die without regret." – Milarepa
54. "Your time is limited, so don't waste it living someone else's life. Don't be trapped by dogma, which is living with the results of someone else's thinking." – Steve Jobs
55. "Long term travel is not an act of rebellion against society; it's an act of common sense within society." – Rolf Potts
56. "What you seek is seeking you." – Rumi
57. "The only way to make sense out of change is to plunge into it, move with it, and join the dance." – Alan Watts
58. "Ask yourself everyday if today were the last day of my life would I be doing what I am doing today" – Steve Jobs
59. "To die is poignantly bitter, but the idea of having to die without having lived is unbearable." – Erich Fromm
60. "Man sacrifices his health in order to make money. Then he sacrifices money to recuperate his health. And then he is so anxious about the future that he does not enjoy the present; the result being that he does not live in the present or the future; he lives as if he is never going to die, and then he dies having never really lived." – Dalai Lama
61. "Everything will be alright in the end. If it's not alright, it's not yet the end" – John Lennon
62. "Paradise is the ability to know you are in it before you are kicked out" – Jay Leno
63. "The world is a great book and those who never stir from home read only a page." – St. Augustine
64. "Life is either a daring adventure, or nothing" – Helen Keller
65. "No one is in control of your happiness but you; therefore, you have the power to change anything about yourself or your life that you want to change." – Barbara de Angelis
66. "I wanted to live life, a different life. I didn't want to go to the same place every day and see the same people and do the same job. I wanted interesting challenges." – Harrison Ford
67. "To awaken alone in a strange town is one of the pleasantest sensations in the world." – Freya Stark
68. "If you wish to travel far and fast, travel light. Take off all your envies, jealousies, unforgiveness, selfishness and fears." –Cesare Pavese
69. "Take only memories, leave only footprints." –Chief Seattle
70. "Everything you do is based on the choices you make" –Wayne Dyer
71. "When you're traveling with someone else, you share each discovery, but when you are alone, you have to carry each experience with you like a secret, something you have to write on your heart because there's no other way to preserve it." –Shauna Niequist
72. "Nobody can discover the world for somebody else. Only when we discover it for ourselves does it become common ground and a common bond and we cease to be alone." –Wendell Berry
73. "Loving life is easy when you are abroad. Where no one knows you and you hold your life in your hands all alone, you are more master of yourself than at any other time." –Hannah Arendt
74. "We must go beyond textbooks, go out into the bypaths and untrodden depths of the wilderness and travel and explore and tell the world the glories of our journey." – John Hope Franklin
75. "All journeys have secret destinations of which the traveler is unaware." – Martin Buber
76. "Sleep on floors if you have to. Find out how other people live and eat and cook. Learn from them – wherever you go." – Anthony Bourdain
77. "A ship in a harbor is safe, but it not what ships are build for." – John A. Shedd
78. "The purpose of life is to live it, to taste experience to the utmost, to reach out eagerly and without fear for newer and richer experience." – Eleanor Roosevelt
79. "I've not ceased being fearful, I've gone ahead despite the pounding in my heart that says: turn back, turn back, you'll die if you go too far." – Erica Jong
80. "Wandering re-establishes the original harmony which once existed between man and the universe." – Anatole France
81. "Tourists don't know where they've been, travelers don't know where they're going." – Paul Theroux
82. "I travel not to cross countries off a list, but to ignite passionate affairs with destinations." – Nysssa P. Chopra
83. "I'm in love with cities I've never been to and people I've never met." – John Green
84. "Surely, of all the wonders of the world, the horizon is the greatest." – Freya Stark
85. "Once the travel bug bites there is no known antidote, and I know that I shall be happily infected until the end of my life." – Michael Palin
86. "Once you have traveled, the voyage never ends, but is played out over and over again in the quietest chambers. The mind can never break off from the journey." – Pat Conroy
87. "And then there is the most dangerous risk of all — the risk of spending your life not doing what you want on the bet you can buy yourself the freedom to do it later." – Randy Komisar
---
---
88. "I am not the same, having seen the moon shine on the other side of the world." – Mary Anne Radmacher
89. "Life is not easy for any of us. But what of that? We must have perseverance and above all confidence in ourselves. We must believe that we are gifted for something and that this thing must be attained." – Marie Curie
90. "If we are to achieve a richer culture, rich in contrasting values, we must recognize the whole gamut of human potentialities, and so weave a less arbitrary social fabric, one in which each diverse gift will find a fitting place." – Margaret Mead
91. "Jobs fill your pocket, but adventures fill your soul." – Jamie Lynn Beatty
92. "To my mind, the greatest reward and luxury of travel is to be able to experience everyday things as if for the first time, to be in a position in which almost nothing is so familiar it is taken for granted." –Bill Bryson
93. "You don't choose the day you enter the world and you don't choose the day you leave. It's what you do in between that makes all the difference." – Anita Septimus
94. "The Pessimist Sees Difficulty In Every Opportunity. The Optimist Sees Opportunity In Every Difficulty." – Winston Churchill
95. "You Learn More From Failure Than From Success. Don't Let It Stop You. Failure Builds Character." – Anonymous
96. "People Who Are Crazy Enough To Think They Can Change The World, Are The Ones Who Do." – Rob Siltanen
97. "We May Encounter Many Defeats But We Must Not Be Defeated." – Maya Angelou
98. "Security Is Mostly A Superstition. Life Is Either A Daring Adventure Or Nothing." – Helen Keller
99. "What You Lack In Talent Can Be Made Up With Desire, Hustle And Giving 110% All The Time." – Don Zimmer
100. "Imagine Your Life Is Perfect In Every Respect; What Would It Look Like?" – Brian Tracy
101. "Security Is Mostly A Superstition. Life Is Either A Daring Adventure Or Nothing." – Helen Keller
102. "Do What You Can With All You Have, Wherever You Are." – Theodore Roosevelt
103. "To See What Is Right And Not Do It Is A Lack Of Courage." – Confucius
104. "For Every Reason It's Not Possible, There Are Hundreds Of People Who Have Faced The Same Circumstances And Succeeded." – Jack Canfield
105. "I Think Goals Should Never Be Easy, They Should Force You To Work, Even If They Are Uncomfortable At The Time." – Michael Phelps
106. "You Don't Have To Be Great To Start, But You Have To Start To Be Great." – Zig Ziglar
109. "Life is about making an impact, not making an income." – Kevin Kruse
110. "Two roads diverged in a wood, and I—I took the one less traveled by, And that has made all the difference." –Robert Frost
111. "Definiteness of purpose is the starting point of all achievement." –W. Clement Stone
112. "The most common way people give up their power is by thinking they don't have any." – Alice Walker
113. "Eighty percent of success is showing up." – Woody Allen
114. "You can never cross the ocean until you have the courage to lose sight of the shore." – Christopher Columbus
115. "Whatever you can do, or dream you can, begin it. Boldness has genius, power and magic in it." –Johann Wolfgang von Goethe
116. "There is only one way to avoid criticism: do nothing, say nothing, and be nothing." –Aristotle
117. "Few things can help an individual more than to place responsibility on him, and to let him know that you trust him. " – Booker T. Washington
118. "Teach thy tongue to say, "I do not know," and thous shalt progress." – Maimonides
119. "Everything has beauty, but not everyone can see." – Confucius
120. "If you're offered a seat on a rocket ship, don't ask what seat! Just get on." – Sheryl Sandberg
121. "Too many of us are not living our dreams because we are living our fears." – Les Brown
122. "You take your life in your own hands, and what happens? A terrible thing, no one to blame." – Erica Jong
123. "The person who says it cannot be done should not interrupt the person who is doing it." – Chinese Proverb
124. "A truly rich man is one whose children run into his arms when his hands are empty." – Anonymous
125. "I have learned over the years that when one's mind is made up, this diminishes fear." –Rosa Parks
126. "Dream big and dare to fail." – Norman Vaughan
127. "It's your place in the world; it's your life. Go on and do all you can with it, and make it the life you want to live. "– Mae Jemison
128. "The question isn't who is going to let me; it's who is going to stop me." – Ayn Rand
129. "Nothing is impossible, the word itself says, "I'm possible!" " –Audrey Hepburn
130. "A journey is best measured in friends, rather than miles." – Tim Cahill
131. "The best education I have ever received was through travel." – Lisa Ling
132. "Life is an unfoldment, and the further we travel the more truth we can comprehend. To understand the things that are at our door is the best preparation for understanding those that lie beyond." – Hypatia
133. Travel like Gandhi, with simple clothes, open eyes, and an uncluttered mind." – Rick Steve
134. "There are no foreign lands. It is the traveler only who is foreign." – Robert Louis Stevenson
135. "Little by little, one travels far." – J.R.R. Tolkien
136. "I always wonder why birds stay in the same place when they can fly anywhere on earth. Then I ask myself the same question." – Harun Yahya
---
---
137. "To travel is to discover that everyone is wrong about other countries. "– Aldous Huxley
138. "You don't have to be rich to travel well." – Eugene Fodor
139. "Travel far enough to meet yourself". – David Mitchell
140. "They say one day you'll leave this world behind, so live a life you will remember." – Avicci
141. "Adventure is worthwhile". – Aesop
142. "You are never too old to set another goal or to dream a new dream." – C.S Lewis
143. "You don't always need a plan. Sometimes you just need to breathe, trust, let go, and see what happens." – Mandy Hale
144. "There are no shortcuts to any place worth going." – Beverly Sills
145. "If you can dream it, you can do it." – Walt Disney
146. "If I cannot do great things, I can do small things in a great way." – Martin Luther King, Jr.
147. "If you haven't tried, how will you ever know if there's any chance?" – Jack Ma
148. "When you stop chasing the wrong things, you give the right things a chance to catch you." – Lolly Daskal
149. "Be so good they can't ignore you." – Steve Martin
150. "You just can't beat the person who never gives up." – Babe Ruth
151. "I want my wife and children to travel always with me and share good things and bad things. That's what the family is for." – Marcello Giordani
152. "In the end, I am the only one who can give my children a happy mother who loves life." – Jane Wolsey
153. "When you travel with children you are giving them something that can never be taken away. Experience, exposure, and a way of life." – Pamela T. Chandler
154. "Don't live the same year 75 times and call it life." – Robin Sharma
155. "The life you have led doesn't need to be the only life you have." – Anna Quindlen
156. "The journey not the arrival matters." – T.S Eliot
157. "It is not down to any map; true places never are." – Herman Melville
158. "Happiness comes from peace. Peace comes from indifference." – Naval Ravikant
159. "Whoever is happy will make others happy too." – Anne Frank
160. "No medicine cures what happiness cannot." – Gabriel Garcia Marquez
161. "The critical ingredient is getting off your butt and doing something. It's as simple as that. A lot of people have ideas, but there are few who decide to do something about them now. Not tomorrow. Not next week. But today. The true entrepreneur is a doer, not a dreamer." – Nolan Bushnell
162. "It's almost always harder to raise capital than you thought it would be, and it always takes longer. So plan for that." – Richard Harroch
163. "The secret to successful hiring is this: look for the people who want to change the world." – Marc Benioff
164. "Ideas are commodity. Execution of them is not." – Michael Dell
165. "If you are not embarrassed by the first version of your product, you've launched too late." – Reid Hoffman
166. "User experience is everything. It always has been, but it's undervalued and under-invested in. If you don't know user-centered design, study it. Hire people who know it. Obsess over it. Live and breathe it. Get your whole company on board." – Evan Williams
167. "Remember to celebrate milestones as you prepare for the road ahead." – Nelson Mandela
168. "What do you need to start a business? Three simple things: know your product better than anyone, know your customer, and have a burning desire to succeed." – Dave Thomas
169. "You shouldn't focus on why you can't do something, which is what most people do. You should focus on why perhaps you can, and be one of the exceptions." – Steve Case
170. "Even if you don't have the perfect idea to begin with, you can likely adapt." – Victoria Ransom
171. "Trust your instincts." – Estée Lauder
172. "Always treat your employees exactly as you want them to treat your best customers." – Stephen R. Covey
173. "If you're passionate about something and you work hard, then I think you will be successful." – Pierre Omidyar
174. "If everything seems under control, you're just not going fast enough." – Mario Andretti
175. "Always deliver more than expected." — Larry Page
176. "Every time we launch a feature, people yell at us." — Angelo Sotira
177. "If you can't feed a team with two pizzas, it's too large." — Jeff Bezos
178. "If you are not embarrassed by the first version of your product, you've launched too late." — Reid Hoffman
---
---
179. "The stars will never align, and the traffic lights of life will never all be green at the same time. The universe doesn't conspire against you, but it doesn't go out of its way to line up the pins either. Conditions are never perfect. 'Someday' is a disease that will take your dreams to the grave with you. Pro and con lists are just as bad. If it's important to you and you want to do it 'eventually,' just do it and correct course along the way." — Tim Ferriss
180. "If you just work on stuff that you like and you're passionate about, you don't have to have a master plan with how things will play out." — Mark Zuckerberg
181. "When you find an idea that you just can't stop thinking about, that's probably a good one to pursue." — Josh James
182. "There's nothing wrong with staying small. You can do big things with a small team." — Jason Fried
183. "The most dangerous poison is the feeling of achievement. The antidote is to every evening think what can be done better tomorrow." — Ingvar Kamprad
184. "Money is like gasoline during a road trip. You don't want to run out of gas on your trip, but you're not doing a tour of gas stations." — Tim O'Reilly
185. "Don't try to be original, just try to be good." — Paul Rand
186. "If you're interested in the living heart of what you do, focus on building things rather than talking about them." — Ryan Freitas
187. "An entrepreneur is someone who has a vision for something and a want to create." — David Karp
188. "Stay self-funded as long as possible." — Garrett Camp
189. "Human beings have an innate inner drive to be autonomous, self-determined and connected to one another. And, when that drive is liberated, people achieve more and live richer lives." — Daniel Pink
190. "You can't make anything viral, but you can make something good." — Peter Shankman
191. "I try not to make any decisions that I'm not excited about." — Jake Nickell
192. "All humans are entrepreneurs not because they should start companies but because the will to create is encoded in human DNA." — Reid Hoffman
193. "Step out of the history that is holding you back. Step into the new story you are willing to create." — Oprah Winfrey
194. "Embrace what you don't know, especially in the beginning, because what you don't know can become your greatest asset. It ensures that you will absolutely be doing things different from everybody else." — Sara Blakely
195. "Life is 10% what happens to us and 90% how we react to it."– Charles R. Swindoll
196. "Accept responsibility for your life. Know that it is you who will get you where you want to go, no one else." – Les Brown
197. "Lean forward into your life. Begin each day as if it were on purpose." ―Mary Anne Radmacher
198. "Education costs money. But then so does ignorance." – Sir Claus Moser
199. "Success usually comes to those who are too busy to be looking for it." — Henry David Thoreau
200. "Would you like me to give you a formula for success? It's quite simple, really: Double your rate of failure. You are thinking of failure as the enemy of success. But it isn't at all. You can be discouraged by failure or you can learn from it, so go ahead and make mistakes. Make all you can. Because remember that's where you will find success." — Thomas J. Watson
201. "Success is the sum of small efforts – repeated day in and day out." — Robert Collier
Let the Motivation lead you to Success
What are your thought on these inspirational quotes? What are your favorites?
Hopefully, you have found your Best Digital Nomad Quotes and motivation to start right now and change your lifestyle. Many Digital Nomads utilize different skills to pursue their passions and hobbies.
Standard jobs can be daunting, thus finding an ideal job or creating a business from scratch takes a little bit of motivation to get you going and help you be successful with it.
With 100% persistence, your success is guaranteed!
---
If you want to start blogging and you wonder where to start, we recommend Hostinger since it is used by Pack and Live on this blog.
We recommend them for all new and experienced bloggers because:
They will register your blog name for you for no charge with free SSL, and ensure that no one else can take it
With over 29 million users in 178 countries, Hostinger has always strived to be on the top of the hosting business.
They have helpful 24/7/365 customer service via web chat.
You can start your website with an automatic 1-click WordPress installation.
In case you change your mind, they have a 30-day money-back guarantee with no questions asked.
They are by far the best and the cheapest hosting provider on the web.
Use any Hostinger link on this site to start blogging from $0.99 per month.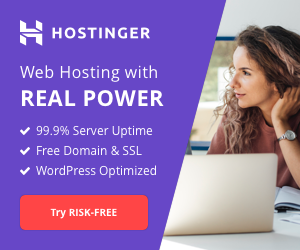 Affiliate Disclosure: some of the links on this post include affiliate links, which means that if you choose to make a purchase, Pack and Live may receive a commission. Keep in mind that by purchasing via provided links comes at no additional cost to you. Pack and Live only recommends products and/or services that are insightful and helpful to readers. For more info please read Affiliate Disclaimer.
If you wish to support my work, you can buy me a coffee here:,
Buy me a coffee
Recommended reading: